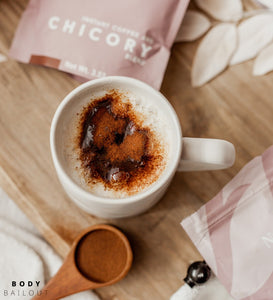 The Perfect Afternoon Pick-Me-Up
Let's face it....cold weather is here. Dreary, chilly afternoons often call for the perfect pick-me-up. Nutriplus Chicory Blend Coffee to the rescue!  
Before we get to my favorite recipe for afternoon happiness, let's first talk about what Chicory Blend Coffee is and why it is wonderful.
Nutriplus Chicory Blend Coffee is an incredibly healthy alternative to regular coffee. It is comprised of 60% chicory and 40% instant coffee. It uses the roots of the chicory plant which are roasted, ground, and brewed. It tastes very similar to traditional coffee but has natural flavors that resonate with a slightly woody and nutty taste. But the best part? Chicory root has some AMAZING health benefits!
Supports gut health
Supports weight control and suppresses appetite with inulin, a high fiber ingredient that controls hunger
Decreases inflammation and eases arthritis pain
May reduce anxiety and stress
Relieves bloating
Reduces cancer risk
Lowers cholesterol
Helps to manage blood sugar levels
Relieves constipation
Boosts your immune system
High in antioxidants, vitamins, and minerals, including Zinc, Magnesium, Manganese, Calcium, Iron, Folic Acid, Potassium, and Vitamins C, E, A, B6, and K.
Now......let's get to that recipe for afternoon happiness in a cup!
Mix 2 tsp of Chicory Blend Coffee with 5 oz of hot water
Heat 5 oz of milk and 1 to 2 Tbsp of your favorite creamer (right now, I'm obsessed with Starbucks Toffeenut Latte)
Add warmed milk/creamer mixture to your 5 oz of instant coffee
Enjoy!
---