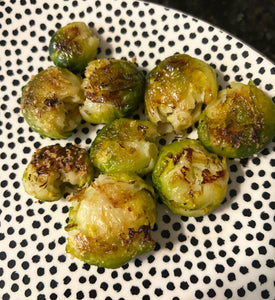 Smashed Brussels sprouts
Preheat oven at 400.
Boil Brussels sprouts in a pot of water on stove top until soft.
Strain Brussels sprouts.
In mixing bowl toss Brussels sprouts with avocado oil.
Transfer to baking sheet, sprinkle with garlic seasoning and Parmesan cheese.
Bake at 400 degrees for 25-30 mins or until crispy.   
Flip over 12-15 mins or when top turns golden brown.
---