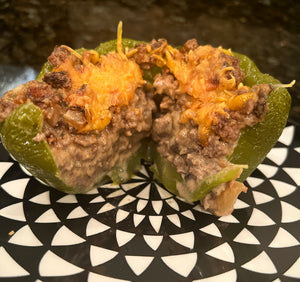 MACRO-FRIENDLY PHILLY CHEESE STUFFED PEPPERS
MACRO-FRIENDLY
PHILLY CHEESE STUFFED PEPPERS
290 CALORIES | 15G FAT | 16G CARBS | 29G PROTEIN


Recipe:
1 lb 93% ground turkey or 93% ground beef
4 large green peppers, with top cut off, cored and cleaned (approximately 20 oz)
8 oz mushroomed, chopped
8 oz (1 cup) white onion, chopped
1/2 tsp salt & pepper
2 tbsp Worcestershire sauce
4 tbsp 1/3 the fat cream cheese
40 grams (approximately a serving and a half) shredded white cheddar cheese
Instructions:
Preheat oven to 375 degrees. In a large pan, cook down onions and mushrooms. Once vegetables have been cooked down remove from pan and add in ground turkey. Brown turkey. Turn off heat. Add in salt, pepper, and Worcestershire sauce. Mix well. Add in onion, mushrooms, and cream cheese and mix together well. Remove from heat and add meat mixture to the prepared peppers. I cut off the top of the peppers, cleaned the inside, and added the mixture. Once you've filled your peppers top with cheese and cook uncovered with 30 minutes. I added a little beef broth to the bottom of the dish so the peppers wouldn't stick.
Enjoy!
---