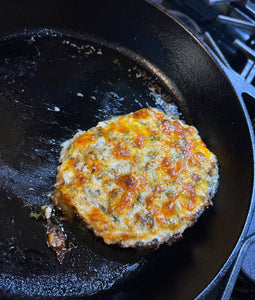 Keto Friendly Stuffed Portobello Mushrooms
Cream Cheese Stuffed Portobello Mushrooms are a perfect side dish, appetizer, or quite honestly, so filling that you can eat them for dinner! While these mushrooms are, in fact, keto and low carb friendly that isn't the best part of the recipe. The best part is that they are actually DELICIOUS.
If you like Portobello mushrooms and are looking for awesome recipes to really bite into, you cannot go wrong with cream cheese, garlic, and Parmesan.
This recipe is also really easy, keto and low carb friendly, and only takes about 30 minutes to make.
Ingredients 
2 Portobello Mushrooms
1 teaspoon of butter
1 teaspoon minced garlic
4 ounces cream cheese, cubed
2 tablespoons freshly shredded Parmesan cheese
1 teaspoon onion powder
Pinch of salt
1 cup chopped greens of your choice. ( I use spinach, kale, and arugula.)
Directions
 • Preheat oven to 350 and grease a baking sheet with non stick cooking spray. Set sheet pan aside.
 • Break off stems of mushrooms and set aside. Place mushrooms, top side down, onto the prepared baking sheet.
  • Add butter, minced garlic, and chopped greens to a skillet. Dice mushroom stems and add to skillet.
 • Cook over medium heat until mushrooms begin to soften.
 • Add cream cheese, shredded Parmesan cheese and onion powder and reduce heat to low.
 • Continue to cook and mix until cheese is melted.
 • Fill mushrooms with cream cheese filling
 • Sprinkle shredded cheddar cheese on top
 • Place in cast iron pan and bake for 20 minutes, or until cheese is crispy on top.
Remove from oven and ENJOY!!! 🤤
---