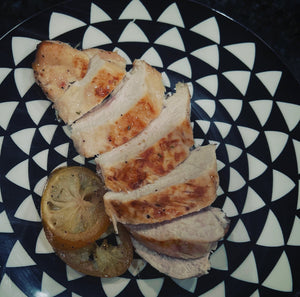 Juicy Raspberry Lemon Chicken!
Are you ready to try the most flavorful, juicy, easy but healthy chicken breast? Pull out your pressure cooker for the perfect poached breast.
The best way to destroy vitamins is to cook your food in an open pot of boiling water. Yeah doesn't sound so awesome boiling chicken now does it?  To retain the most nutrients possible, most experts recommend that you use as little water as possible and cook foods rapidly because many vitamins are sensitive to water, heat and air exposure (vitamin C, the B vitamins and folate in particular) and water used for cooking can dissolve and wash away water soluble vitamins, while the heat deteriorates them.
The longer the cooking time and the higher the temperature, the worse it becomes. It is best to choose the cooking method that most optimizes and preserves the nutrients in food.
Therefore, any cooking that minimizes the time, temperature, and water will help to preserve nutrients. Pressure cooking under steam is one of the methods best because it minimizes time and requires little water.
ingredients:
• Boneless skinless chicken breast
• Fat free raspberry vinaigrette dressing of your choice.
• fresh chopped garlic
• fresh rosemary 
• sliced lemon
• Himalayan sea salt
• 1 cup or chicken stock per breast

Instructions:
• Combine all ingredients in pressure cooker.
• Lock the lid and set pressure cooker for 10 minutes.
• As soon as the pressure cooker timer goes off, do a quick release.
• Once the pressure is released, remove the lid and pulled out the poached chicken breasts.
Slice, and enjoy! 
---