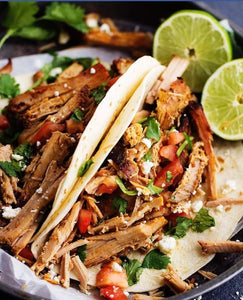 Easy Crockpot Pork Carnitas
Healthy, delicious, and INCREDIBLY easy. You can't go wrong with this meal!
1 pork loin
1 16 oz jar of medium salsa (or 1 container of fresh salsa)
2 sliced bell peppers
1 chopped jalepeno pepper (optional)
1 large onion (sliced)
1 tsp cumin
1 tsp chili powder
1 tsp garlic powder
1/2 tsp salt
Low carb tortillas
FOR GARNISH - cojita cheese, lime juice, and cilantro

Dump all of the ingredients (minus the garnish and the tortillas) in the crockpot. Cook on low for 8 hours. Shred the pork loin and mix well. Serve on low carb tortillas* and garnish with cheese, cilantro, and a squirt of lime juice. Enjoy!
* Try the low carb, multigrain tortillas from Mr. Tortilla. Fantastic, and only 1 g net carbs!
---