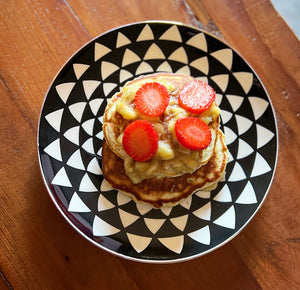 Easy Banana 🍌Pancakes 🥞 (sugar free)
Ingredients 
2 Ripe Bananas - the ripest the are, the sweeter the pancakes will be
2 Eggs - medium size, at room temperature
1 1/2 teaspoon baking powder 
So No Milk and No Sugar needed here!
The best Bananas to use for this recipe are very ripe ones. There is no added sugar in this recipe, so the naturally sweet ripe bananas are a great alternative!
Mash the Ripe Bananas into a mixing bowl (if you find it hard to mash because the bananas are not ripe enough, place them for 30 seconds to 1 minute in the microwave. They will become much softer). The riper the bananas, the sweeter the pancakes will be.
Whisk in the Eggs
Add in Almond Flour, baking powder and salt, whisk until combined. You will see small lumps, that's normal - it's usually small chunks of mashed bananas.
Cook the pancakes in a greased or non-stick skillet the same way you would cook any pancakes. When you see small bubbles form on the surface of the pancake, it is time to flip it.
Sugar Free Caramelised Bananas Topping
To stay in the Healthy Banana Theme, I made some Sugar-Free Caramelised Bananas to serve with the Pancakes. It is just as easy to make as the pancakes.
---