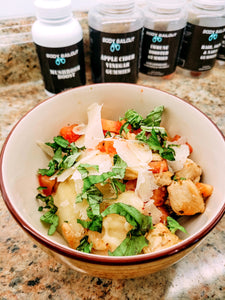 Bruschetta Chicken Casserole
This dinnertime delight is quick, delicious, and CLEAN!!!! If you're a fan of bruschetta, you've GOT to try this casserole. I'm obsessed!
Ingredients:
1 lb chicken breasts cut into bite sized pieces
1 Tbsp olive oil
5 ripe Roma tomatoes, chopped and lightly salted
3 fresh garlic cloves, crushed or chopped
1 cup shredded mozzarella cheese
1 tsp dried oregano
2 Tbsp high quality balsamic vinegar
Sea salt / Himalayan pink salt and ground black pepper to taste
Small handful of fresh basil leaves, chopped
Fresh parmesan cheese for garnish
Instructions:
Preheat oven to 375 degrees F
Heat oil in skillet over medium heat; add in chicken and season with salt and pepper
Cook chicken, stirring occasionally, until golden brown on the sides
Transfer the chicken to a baking dish (lightly sprayed or brushed with olive oil to prevent sticking); top with chopped tomatoes, oregano, garlic, and balsamic vinegar
Sprinkle with mozzarella cheese
Bake uncovered in preheated oven for 18 to 20 minutes
Remove from oven and let casserole rest for 5 minutes, then garnish with fresh basil and fresh parmesan and enjoy!
This recipe came from Clean Food Crush, a GREAT website loaded with tons of healthy recipes. Be sure to check them out!
---