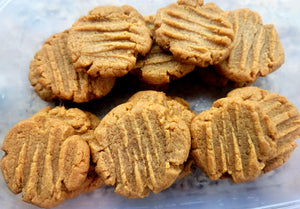 3 Ingredient Peanut Butter Cookies (Keto-Friendly!)
It doesn't get any easier than these 3 ingredient Peanut Butter Cookies. Whip up a batch of delicious homemade peanut butter cookies that are naturally flour-free and keto-friendly! The hubs doesn't even know that these are made with monkfruit sweetener instead of sugar....and he requests them FREQUENTLY. 😂
Ingredients:
1 cup natural creamy peanut butter
3/4 cup monkfruit sweetener
1 large egg
Instructions:
Preheat oven to 350 degrees and line cookie sheet with parchment paper.
In a mixing bowl, combine peanut butter, monkfruit sweetener, and egg. Mix until well combined.
Scoop into 1 Tbsp balls and drop onto cookie sheet.
Using the tines of a fork, flatten cookie dough.
Bake for 10-12 minutes, until lightly browned. Allow to cool completely.
Enjoy!!
---