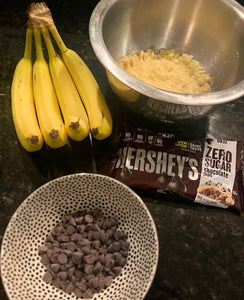 2 ingredient, guilt free dessert!
Ingredients
• 3 large bananas. The riper, the better.
• 1 cup sugar free chocolate chips. 

Directions
1. In a food processor, or with a hand masher, mash bananas until smooth consistency.


2. In a separate bowl, melt 1 cup of chocolate chips. 


3. Add melted chocolate chips to mashed bananas. 
4. Mix together with food processors or hand mixer. Whip for a couple of minutes to give it a fluffy texture. 


5. Poor mixture into muffin tins. The foil lined ones work best. Freeze them, and enjoy!  

---